Back in September of 2019, attendees of the RuralRISE Summit descended on an up-and-coming small city about a 45-minute drive south of Little Rock, Arkansas.
While we were there, we enjoyed the hospitality of Pine Bluff and its residents, hosted one of the first events in the Pine Bluff Convention Center in years, and enjoyed some of what the area has to offer.
As we approach the next Summit in Emporia, Kansas, we were curious to hear how things have changed since we were there.
So we want to know: what's happened in Pine Bluff since RuralRISE 2019?
To better understand what's been going on, we checked in with Mildred Franco, ecosystem builder, connector extraordinaire, and our main point of contact in Pine Bluff for the 2019 Summit. (Anyone who's been to a RuralRISE meeting or event over the past few years has likely met Mildred, since she's become an integral part of the RuralRISE community!)
A lot has happened in 3 years, despite the COVID-19 pandemic holding back much of what was planned. She tells us that many projects have not proceeded as expected or have not started yet — but as you'll see from the updates below, many great things have still happened in the past few years!
Some of the major projects that have been completed have been made possible through public partnerships, private investments, or public funds.
We'll cover these projects by category: economic development, government and infrastructure, quality of life, and education.
Let's travel back to Pine Bluff!
Economic Development
Between an innovation hub, casino, downtown revitalization, gigabyte internet, and companies expanding into the area, there's no shortage of new projects on the Pine Bluff economic development front.
In April 2020, The Generator completed the renovation of a 1937 building into an innovation hub housing a coworking space, technology hub, photography studio, and digital makerspace. The venture opened to the public in January 2021.
Throughout 2020, The Generator connected entrepreneurs to $155K in grants to support their businesses during the pandemic. Upon opening in 2021, it launched its "Gentrepreneurship Pre-accelerator" and ran three cohorts through April 2022.
The Generator continued to provide support through workshops and one-on-one mentorship to entrepreneurs. It also launched the Digital Navigator program – which ran from July 2021 through June 2022 – in partnership with Rural LISC.
And in November 2019 and 2021, The Generator celebrated Global Entrepreneurship Week (GEW).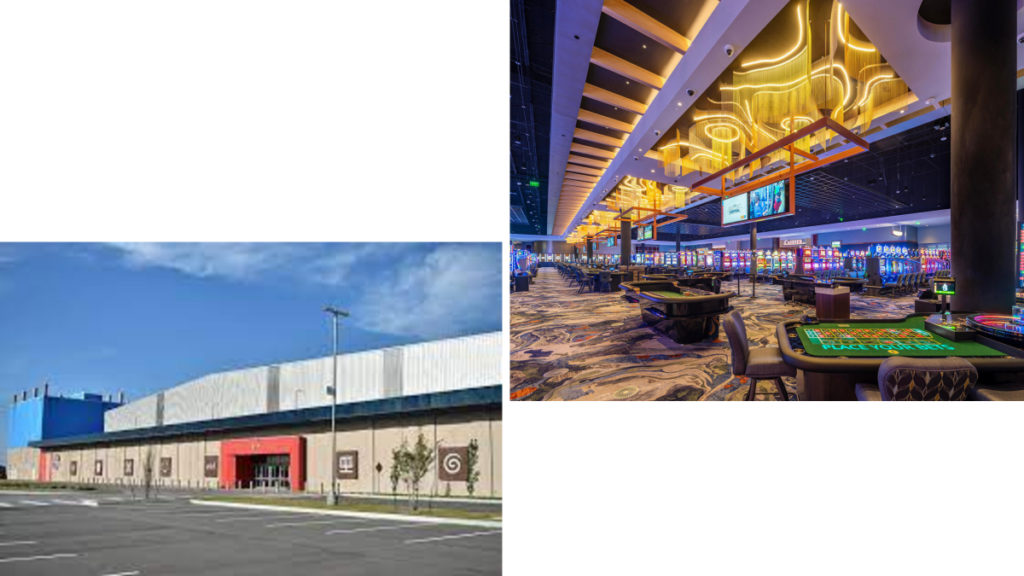 Saracen Casino Resort Phase I opened on October 2020. The game floor is 8,000 square feet, with 2,000 slot machines and 35 tables. The casino also has restaurants and an award-winning steakhouse, and employs approximately 800 people.
Phase II, currently under construction, will include a new 300-room hotel, 123,000 square feet of ballroom and event space, and all associated support and back-of-house spaces.
Pine Bluff Urban Renewal Agency purchased buildings on the 300 block of Main Street. It had rehabilitated three of the structures by 2020.
In 2021, WEHCO announced a $2.0M plan to upgrade its cable infrastructure to make Pine Bluff a "Gig City" by July 2022. 
PeopleShores, an organization that offers high-value services to socially conscious enterprises with locations in economically challenged areas, opened a facility in Pine Bluff in 2022 on the Southeast Arkansas College campus. 
They provide service by recruiting, training, and employing individuals from these disadvantaged areas. Their business model benefits customers, employees, and the community.
In 2021, JRMC, Pine Bluff's largest employer, partnered with Arkansas Children's Hospital to open a new Children's Clinic. In August 2022, JRMC opened the Jones-Dunklin Cancer Center and is now building an expansion to the main campus.
In February 2022, the CARTI Cancer Center opened its Pine Bluff Center to expand its reach into Southeast Arkansas.
The Walton Family Foundation announced they were adding Jefferson County to their Home Region earlier this year; this could potentially bring resources to Pine Bluff.
But it's not just new businesses springing up and projects being completed in Pine Bluff.
Government and Infrastructure
The City of Pine Bluff partnered with Go Forward Pine Bluff (GFPB) on several projects, ranging from pedestrian access to homeownership funding.
The City of Pine Bluff Streetscape Project Phase I on Main Street was completed in May 2021, with a grand opening in June 2021. 
The project aimed to create a more pedestrian-friendly downtown, allowing for greater accessibility to downtown businesses and incentivizing additional companies to invest in the area. Plans are in the works to start Phase II soon.
In partnership with GFPB, the City of Pine Bluff commissioned a Master Plan to update its codes and regulations; they completed the plan in 2022.
In early 2022, GFPB launched its Re-live Pine Bluff Initiative. This initiative creates various partnerships to make homeownership possible for ALICE (Asset Limited, Income Constrained, Employed) families through the following vehicles:
97% Affordable Advantage
This product is offered in partnership with GFPB within the target area bound by 17th Street on the north, 34th Street on the south, Hazel on the west, and Olive on the east.
100% Advantage Home Mortgage Products
Residents in the Pine Bluff MSA are eligible for the 100% Advantage Home Mortgage.
Both products have income and geographic restrictions.
Simmons Bank (an equal housing lender) has lowered its qualifying credit rating to 580 and 620, respectively, to increase home ownership.
Pine Bluff Homeowners' Association (PBHOA)
The PBHOA will provide a secondary loan for closing cost assistance and a mortgage down payment of up to 3% of the mortgage cost. Recipients must join the PBHOA. Relyance Bank will originate and service the loans in partnership with GFPB.
Neighborhood Enhancement Act
To attract developers, the City of Pine Bluff's Neighborhood Enhancement Act will provide up to 20 percent of new construction or rehabilitation costs. In addition, homeowners must agree to live in the target area for five years.
But what's an improvement in the economy and infrastructure without considering residents' quality of life?
Quality of Life
Since we were there last, Pine Bluff residents have gained three new (or improved) community buildings.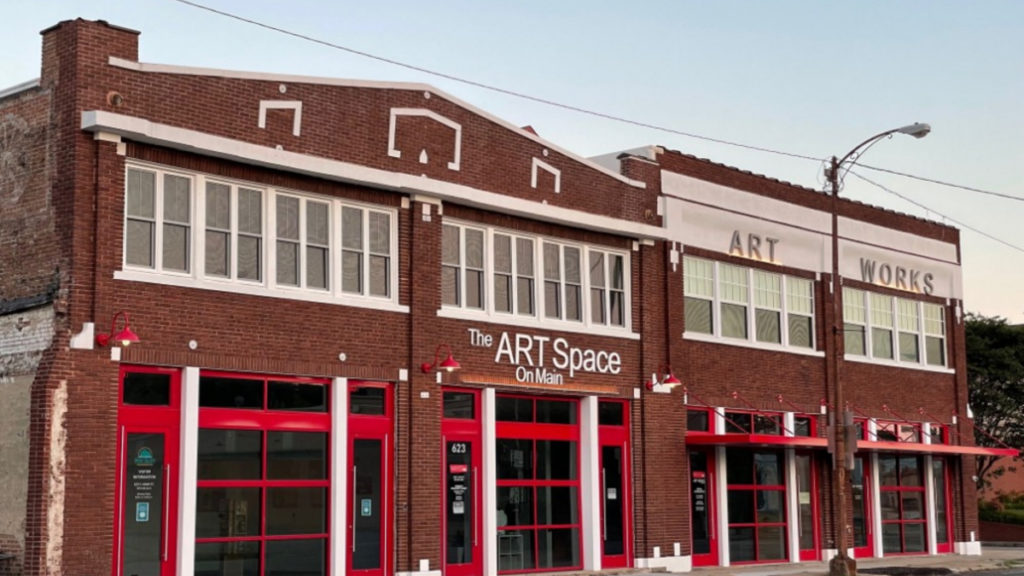 The Arts & Science Center for Southeast Arkansas (ASC) completed a $5.0M renovation and transformation of two historic 1920 buildings adjacent to the ASC into what is now known as ARTSpace on Main, ART Works on Main, and the ARTS Yard.
This expanded campus provides more ways for the community to engage through arts and events.
The new $13M, 33,000-square-foot main branch of the Pine Bluff Jefferson County Library was completed and opened in 2020.
The Merrill Center underwent a $1.5M renovation and was renamed The Pine Bluff Community Center in 2021. In 2022, the City of Pine Bluff granted the Boys & Girls Club of Jefferson County management of the programming.
Finally, you can't talk about community improvement without considering education.
Education
From K-12 to the university level, Pine Bluff takes education seriously.
GFPB launched TEACH Pine Bluff in 2019. At first, it offered fellowships to support K-12  teachers in obtaining master's degrees. In 2021, through a grant from the Walton Family Foundation, it switched the initiative to support K-12 non-certified teachers to become certified.
In 2020, GFPB provided a $55K grant to the University of Arkansas at Pine Bluff for its Educator Preparatory (EPP) program.
With all these new projects completed and even more in the works, we can't wait to see what's next in Pine Bluff!
Where to Next?
One of our favorite parts about RuralRISE is the annual summit, where we get to meet new rural friends (and see old ones), visit rural communities we may have never been to, and share what's working in our local communities.
We're exceedingly grateful for the local organizers – like Mildred – whose tireless work on the ground helps make these events possible.
This year, we're very excited to (finally) be in Emporia, Kansas, for the 2022 RuralRISE Summit. The event will take place from September 28th – 30th, so grab your tickets now if you haven't already! We hope to see you there.