This guest post comes from David Ponraj, founder and CEO of Startup Space (startupspace.us), a social enterprise working with economic and community development organizations across the country to create digital connections to entrepreneurship resources while also providing data and systems for resource management.
Why focus on small businesses? Is the impact worth the effort? What's in it for economic development organizations?
According to Brooking Institute, "rural small businesses have been found to generate wealth that stays in the community, build local leadership, and even contribute to population health" (read more).
Investing in rural small businesses is good for the entire community, state, and nation.
However, rural small businesses lack the tools and resources needed to build and grow. And the pandemic has not made it easy on our rural communities. 61% of rural small businesses felt unsupported by federal government policies, according to the "Principal Financial Well-Being Index" survey of business owners.
If we want to bring back rural America, we need to focus on supporting rural small businesses. Some of the key areas of focus:
Access to Capital
Access to Broadband Internet
Access to entrepreneurship resources
Let's take a closer look at each of those three areas of focus.
Access to Capital
Small businesses everywhere struggle to find capital that can fit their needs in terms of speed, cost, and total amount of capital.
Red tape, high interest rates, and lack of microloans force small businesses to turn to loan sharks and online lenders who engage in predatory lending.
According to the Federal Reserve, 40% of rural counties lost community bank branches between 2012 and 2017. This sets the small businesses back even before they start. If entrepreneurship is about wealth creation, then access to right-sized capital is essential to creating value for the small business owner and enabling them to earn a living.
Access to Broadband Internet
An example of support, one Southern Virginia town is leveraging creative partnerships united by its fiber network to boost the creation and development of its small businesses.
In partnership with Microsoft TechSpark Virginia and with state support, Mid-Atlantic Broadband founded the SOVA Innovation Hub in 2020. This 15,000 square-foot nonprofit center for innovation and entrepreneurship features coworking and meeting space, entrepreneurship and digital skills training, and access to technology experts and experiences.
The partnership envisions the community hub will spark economic transformation in the small Virginia town of 8,142 that was once reliant on tobacco. The hub is the first new building to open in downtown South Boston, VA, in 40 years.
The strategy for the South Boston ecosystem outlines six key goals:
Connect entrepreneurship resources
Support existing business growth and innovation
Develop entrepreneurship training programs to nurture aspiring entrepreneurs
Expedite access to capital
Expedite broadband expansion
Fund and facilitate implementation to ensure flexibility and sustainability
In addition to training programs, grant funds are being used to create a virtual hub with digital infrastructure through Startup Space. SOVA's digital hub on the Startup Space platform enhances access to the nonprofit's programs and resources, including a "resource compass" to help entrepreneurs navigate all of the resources available through regional support organizations.
The digital hub makes entrepreneurship and business support services and resources available on-demand through the SOVA website or through an application that can be downloaded on any mobile device.
It is the community's "one-stop shop" for entrepreneurship and helps SOVA behind the scenes to organize the local ecosystem.
To drive long-term development of the rural entrepreneurship ecosystem, the GO Virginia state board awarded the nonprofit partnership a major grant to support entrepreneurship training, youth entrepreneurship, and increasing access to capital.
Access to broadband is fueling this innovation; creative partnerships are helping to realize its full potential to achieve economic growth. It's a compelling point of reference for rural economies to develop strong entrepreneurial ecosystems (more on local strategies from Main Street America and the Brookings Institution).
Access to Entrepreneurship Resources
Small businesses everywhere need access to the resource community to start and grow their businesses. We launched Startup Space in 2018 with the singular focus of better connecting small businesses to resources in the community.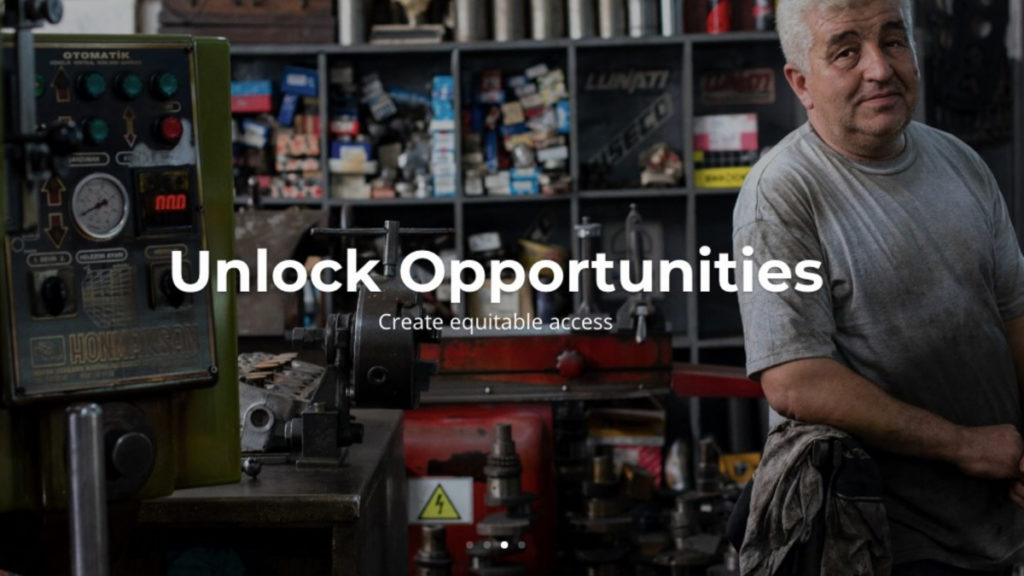 In rural communities, this problem is exacerbated by the fact that resources are often distant and the density of business services (for example, lawyers, accountants, and web developers) is sparse or located hundreds of miles over in an urban community.
This creates a unique challenge for rural entrepreneurs who need the same support network as their urban counterparts to build a thriving business.
We countered this by mapping the local ecosystem and broadening the radius to help rural small businesses easily find the resources they need. We also focus on giving select resources within the community a clear designation so the intended underserved entrepreneur can easily find dedicated resources and support.
Technical assistance can also be hard to come by for rural entrepreneurs. By providing a virtual platform, we can bridge the divide and bring some of these resources right into the home of the small business owner.
When technical assistance is combined with access to capital, small business success rates go up dramatically.
Investing in What Rural Businesses Need
So what's next for rural America? And what can your organization do to help support local businesses in these three key areas?
We are doing our rural small businesses and our nation a disservice by not recognizing the unique challenges and opportunities that exist in rural America and allocating appropriate resources to quickly address these challenges.
Rural small businesses are the backbone of our rural economy and if we want a strong and vibrant economy, we need to invest in building out the infrastructure that rural communities need. (Read more about why rural America isn't fully connected yet.)
This April, join us at the first RuralRISE Technology Summit, a virtual event including expert panels, real-world success cases, and networking — all focused on the critical development of broadband and its utilization in rural economic ecosystem strategies.
Register for the Summit (April 15, 2-5 p.m. EST), followed by a social hour hosted by our team at Startup Space.
About Startup Space
Startup Space is a leading community platform that helps connect entrepreneurs to resources in their communities while also providing data analytics and management systems for community builders. For more information, visit https://www.startupspace.us or contact us at media@startupspace.app. The podcast, "Breaking Down Barriers," featuring entrepreneurial ecosystem builders, is available at: https://startupspace.captivate.fm